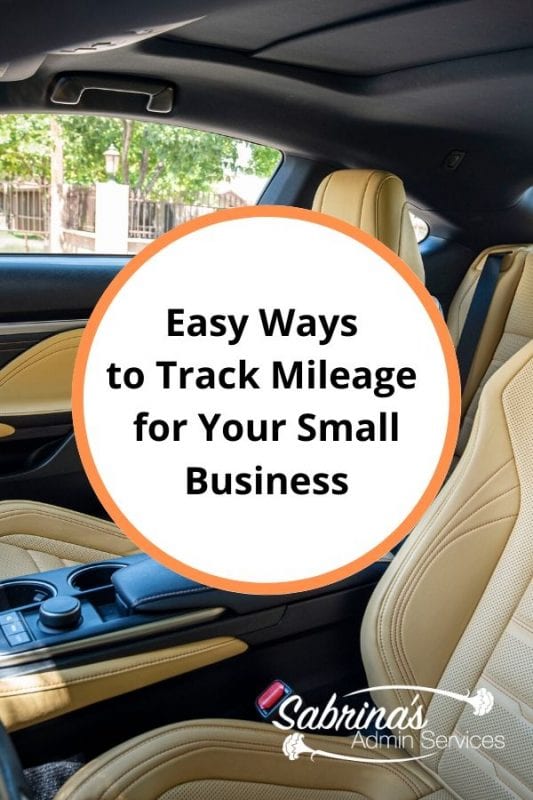 Whether you are tracking your small business mileage for tax purposes or tracking mileage to bill clients, it is important to keep good records. It's frustrating and stressful at the end of the year; you miss information because you didn't track it properly or consistently. Then, you have to run around tracking down all the information that should have been tracked all along. I know we have all been there.
But this year, let's vow to keep our mileage tracking more accurate by using these easy ways to track mileage for your business. Feel free to use the sheet I created below and print it out each month to keep your records more accurate.
If you want a paper copy, here is the track mileage sheet to use:
Printable Mileage Log and Reimbursement form
How to use this form to track your small business mileage?
Well, I'm glad you asked. =) Here are instructions and tips on how to use this form:
Start by printing out copies of this sheet and store them in your car.
Fill in the top with your company name, year, month, and mileage rate. Here is the current year's standard mileage rate link from the current year rate is Business: Rates 2023: 65.5 cents
Store the paper in a plastic sheet protector in your vehicle(s).
Write the name of your start location and where you are traveling to (end location), and why you are going to the end location.
Set the trip meter to zero before leaving, and write down the mileage you drove when you got to the location under the mileage column.
If you invoice clients for your mileage, I added a column for you to make a note to remind them that you invoice. I like to use this column and write the dates I invoiced the client, so I can refer to the invoice if needed.
Print out one sheet a month. After the month ends, bring the completed paper into the office and store it in a safe place for tax time.
If you want to use an app instead of paper, here are Android and iPhone apps with very good reviews for tracking mileage.
***Ad***

Android Mileage Tracker:
iOS Mileage Tracker:
MileTracker – Mileage Tracker and Reporting
MileIQ Automatic Mileage Tracker
TripLog – GPS Mileage Log Tracker
App Tips:
Try all the apps for your device to figure out which one you want to use. Not all apps may have all the features you want to take some time and review them before committing to one app.
If you do decide to use the apps, be sure to back up your device and your files often so you do not lose any information.
Whichever method you use, make sure you stay consistent with your record-keeping. Creating a process for when you fill out the paperwork will help you not forget to fill out the information. And always have a backup plan if anything goes wrong with the system. You can print the weekly mileage log out and place it in a file for safekeeping. Let me know how it goes; I would love to hear from you.
If you want to get more information on travel tips, feel free to visit our other post: Organized Business Travel Tips
Now it's your turn. Do you use a different app to track your business mileage? Please share it in the comment section below.
Please note these are affiliate links through Amazon, I will earn affiliate fees if you decide to make a purchase.
(Visited 1,300 times, 1 visits today)