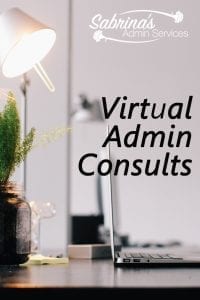 Did you ever need a sounding board or some advice, on a system or process of your business but don't have an expert available? Did you need someone to review what you were doing to make sure it was correct? These Virtual Admin Consults are just for you!
It's like having your very own virtual Chief Operating Officer!
Working with small business owners for over 20+ years, I admire how they get things done. And, when I see them struggling, I want to help. With my many years of experience and a background in business, I have many resources and have experienced a lot in the small business industry, especially the service-based industry. Some small business industries I have helped are pet sitting, consultations, coaching, construction, food truck, pet sitting services, and much more.
Who can benefit from this service?
This service is excellent for 1-5 employee start-ups, entrepreneurs, and established businesses who need fresh, creative, and insightful ideas for their various processes and systems. I primarily work with the service industry. Some of my clients consist of hair salon owners, executive coaches, self-improvement authors, consultants, marketing agencies, and pet sitting companies.
Do you need to work with only the business owner?
Not necessarily. If there is a person who runs a particular part of your business and they need help, we can set up a consult with him or her.
What issues can you help me?
There are several areas of administrative support where I can help. Here are just a few examples: website layout suggestions, software upgrade options/ideas, QuickBooks Pro or Online concerns or issues, social media marketing strategies, and sounding board options.
How does this service work?
For pre-paid one month only consults for businesses.
$125.00 per month – this is for 2 hours consults in a month.
$250.00 per month – this is for 4 hours consults in a month.
For MONTHLY pre-paid consults for businesses.
$100.00 per month – This is for 2 hours consults in a month.
$200.00 per month – This is for 4 hours consults in a month.
That's a 20% discount!
How long are the consultations?
The consultation splits into half an hour increments. For example, if you buy 2 hours, you can have one half an hour consults per week for four weeks. Or, 1 hour every two weeks.
How do I pay for this service?
Payment is prepaid before doing the first consultation. I accept check or PayPal. The month begins when the payment is due.
Note: if time remains for the month, there will be no reimbursement. This will hopefully give you the incentive to stay on track with your consults.
What are you waiting for?  Your business is worth the investment!  If you are interested, please complete the form below. 
Contact Form on Virtual Admin Consults
Contact us today to get started on your next project!