***Full Disclosure: Visit our "Disclosure Policy and Cookies" for details. Affiliate links appear on this page from Google Adsense, Amazon, Impact affiliate members, and Shareasale affiliate members.****
Sharing on social media keeps you connected to your followers. They get to see who you are, what you do, and how you succeed in your small business. This week, we will talk about engaging social media post ideas for the coaching industry. These social media post ideas can help counselors, business coaches, executive coaches, leadership coaches, accountability coaches, and life coaches. Keep in mind that these 30 engaging coaching industry social media post ideas are guidelines to help you get inspired.
Keep in mind, since the people in this industry work with individuals, it is best to avoid any personal experiences you had with clients (Affiliate Link). To help you share and engage with your audience in a more uplifting way, I am sharing 30 social media post ideas for you to start the conversation with your followers. And, hopefully, get new clients (Affiliate Link) from your social media platforms.
First, determine which platform works best for you. Then, set up the business page so that it matches your brand. Invite friends and family to follow you on that platform. Make sure your social media page is public so search engines will pick it up. You can even send out emails with the link to make it easier for those people to click through and follow.
***Ad***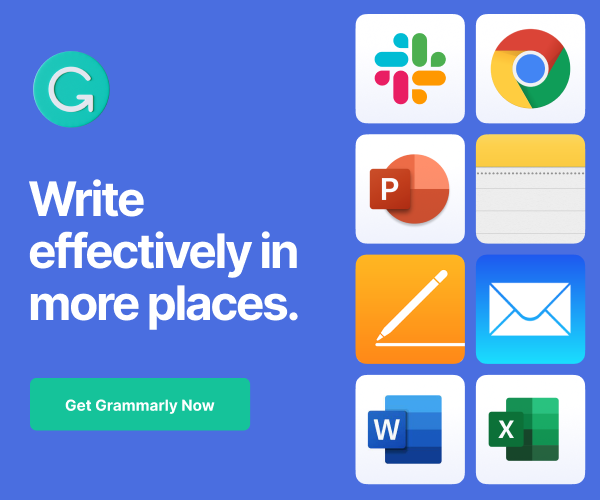 ***Ad***
Now, that your social media platform is ready, it's time to share these coaching social media post ideas!
I have elaborated on all these social media post ideas below.
***Ad***
Post a picture of yourself. This could be you doing something like taking a walk on a trail.
***AD***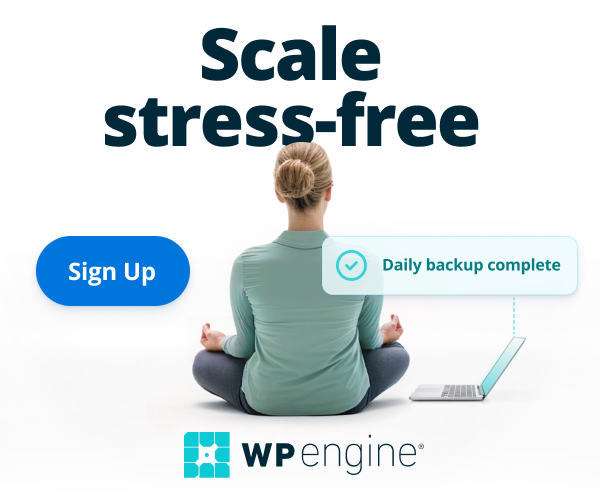 Post the national holidays. Visit National Day Calendar for unique national holidays besides the regular ones. They have it divided by months to find national holidays easily. Pick a holiday that relates to the coaching industry.
Share a recent blog post and start a discussion. Do you write a blog post, share, and create a question to spark conversations.
***Ad***
Show a video of you talking about a passion of yours. You can do a live stream you have just recorded, then upload it later. Either way, ask for responses and include thought-provoking questions in the video and the post.
Share testimonials, make a pic or video. If you have been around for a while, you probably have several testimonials from clients (Affiliate Link). Add the text to an image and share it on social media. You can make a video and add several from a particular service you offer too.
***Ad***
Share a challenge with your followers. Everybody loves a challenge! So, share one that they can do during the course of a week or so. Some ideas could be to write a gratitude journal for an entire month.
Start a discussion by asking a question. Asking questions stimulates conversations. Find an open-ended question that is not too personal to share.
Share your favorite publication article. You probably have industry trade magazines or websites you visit for resources; you can share some that would help your followers. Keep it light; nothing too sensitive works best.
***Ad***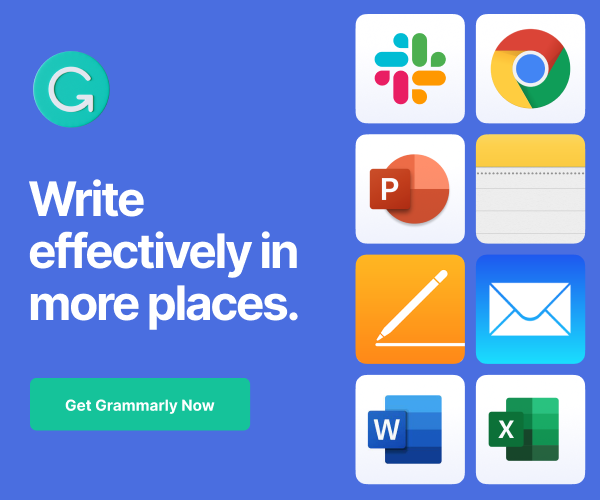 Show your awards. Have you received awards for your service to others? Share them! Every so often works best for these posts.
Share where you have been interviewed. Did other people interview you? If so, share the link and write how excited you are for being asked.
Here are another 10 coaching industry social media post ideas
Write an unfinished question and have people answer. Have you ever seen people make an image with an unfinished question on it? You can do that for your post! Here's an example, my favorite activity to do to relax is __________.
Create polls to gather information about the followers. On most social media platforms, you can do polls to get feedback from your audience. Create it with multiple-choice responses. People will more likely respond to quick short questions and answer polls.
***Ad***
Share stats in the industry. If you are part of an industry association, you can probably find stats you can share about your industry. Here are some I found about Business Coaching in the US.
Post beautiful relaxing pictures. Sharing sunsets, beach, and other relaxing pictures remind viewers to relax and take it easy. Try it and see.
Share TED Talk videos. Share any video that helps educate the follower to something.
Do a Facebook Live interview. Live streaming is very popular now. So, sharing yourself regularly helps the potential client get to know you and how you communicate with others.
Show case studies in your industry. There are probably case studies you learned about when you were getting your degree, share some with others online.
Share tips to help fans get through an issue. Determine problems many people have, give tips on how to help them through it.
Share inspiring quotes. Display inspiring quotes about self-care and coaching are examples you can share.
Share sincere humor memes. Visit this link for help on coaching memes.
And, here's the last of the coaching industry social media post ideas!
Share associate info and website. Do you have colleagues (Affiliate Link) you refer to others? Share what they do and their website.
Share a current event. Are there any current activities that you want to share when it happens? Show it on social media!
Share your story. Share your background and your passion for why you became a coach.
Post a link to an old article of yours. Did you write for publications before? Share those articles.
Share your favorite thing in your office. Are there particular items in your office you treasure? Share them online.
Share your pet family. Ask them to share. Show pictures of your pets with a question bubble saying something to spark conversations.
Share a live Q and A with followers. Do a question and answer with your followers. Schedule a time and promote it.
Promote your services with only 6 words. Create a catchphrase that describes your services with only 6 words and share it with others online.
Share life hacks. Show tips of variety of life hacks for others to share.
Share a book you read. Write a review of a book you recently read and what you learned from it.
Feel free to share this image below with your colleagues!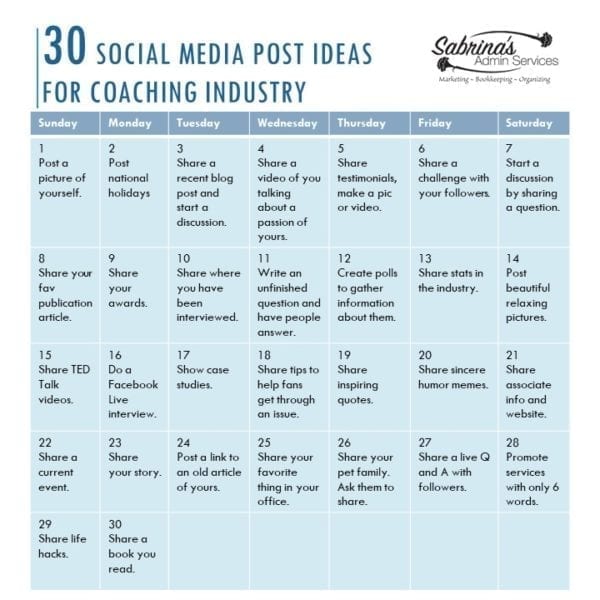 Additional tips for Your Coaching Industry Social Media Post Ideas:
Be sure to share valuable content, not just anything. Stay in the coaching industry realm. Everyone must understand what your social media page is all about.
Remember to post often! Social media platforms prefer pages that often post, so share to your heart's content.
If you need help with your social media marketing, feel free to check out my services.
Well, there you have it! I hope this helps you get inspired to share on your coaching industry social media page. Feel free to leave a comment or question below. I would love to hear from you! Happy Sharing!
(Visited 3,993 times, 19 visits today)