I work with plenty of small business owners that feel bookkeeping frustrates them. They don't want to do it. They don't even understand the importance of it. I'm here to tell you that it is important and it must be done properly to be effective. It is important to make bookkeeping a priority for any business, especially if you are a small business owner or entrepreneur.
Make Bookkeeping A Priority For Your Small Business
First, you will need to understand the benefits of having an efficient bookkeeping system:
Benefits of having an effective bookkeeping system
While there are many benefits, below are just some of them.
Making sure your cash flow has a system. Using a budget and tracking specific transactions over time will help you see areas that need more attention. This will also help you create a process to help retrieve information when and if needed.
It helps you make smart business decisions. Say, for example, you need to buy a computer; where is the money going to come from? By seeing how much profit you have in your business, you can see how much you can put aside or how much you can use for the computer. I had a client that didn't care about numbers. I told them repeatedly that they are ultimately responsible for managing their business and must look at the totals. They did and, as a result, made nothing this year.
It helps you stay clear of any tax violations. There are several areas you need to be compliant like paying income taxes, payroll taxes, corporate taxes, worker's comp, and sales tax. If your business is working properly and complying with all these different tax agencies, you are less anxious about an audit. You are more likely to keep canceled checks, receipts, tax returns, and other papers related to the review.
If you are tracking your bookkeeping correctly, you will most likely be able to prevent fraud and embezzlement because you have a check and balance process in place. Bookkeepers can help notice unusual transactions and be able to tell you of them as soon as possible to help you take action.
Now that you see the benefits of having an efficient bookkeeping system, it's time to start your accounting process with these easy steps:
Make an account list or find a list for your industry of the post everyday items to track. Click here to see a list of a common list of accounts to track. 
Start by creating a file in QuickBooks or Quicken that follows your business bank accounts. You can also use Freshbooks (affiliate).
Download transactions from your bank for the current year.  If you are starting in January, you can start fresh.  Banks make it easy to download, so why not use the feature?
After you go through and download all the transactions and add them to the proper account, make sure you reconcile each account by pulling the PDF of the statement. 
Then, keep it going, reconciling your checking, savings, and credit card accounts consistently EVERY MONTH.  Not every other month or every six months.  There are more likely errors that will occur if you do it infrequently.  And, if there are fraudulent transactions, you won't see them quickly.
Every 3-4 months, review your Year-to-Date totals.  How are you doing?  Are you making money? Where is your money going?
I hope this helps you see the reasons why you need to make bookkeeping a priority. If you still feel that you can't handle doing this process yourself, contact a trustworthy bookkeeper, like me, to help implement and maintenance your books.
If you are looking for help getting your bookkeeping organized, I can help. Visit our: Bookkeeping Services page for details and to send me a message.
***Ad***

Now it is your turn! What frustrates you about bookkeeping? Please leave a comment below.
Feel free to check out this post by Inc. magazine called: 5 Reasons Why Bookkeeping Should Be a Priority
Please note these are affiliate links through Amazon, and at no additional cost to you, I will earn affiliate fees if you decide to make a purchase.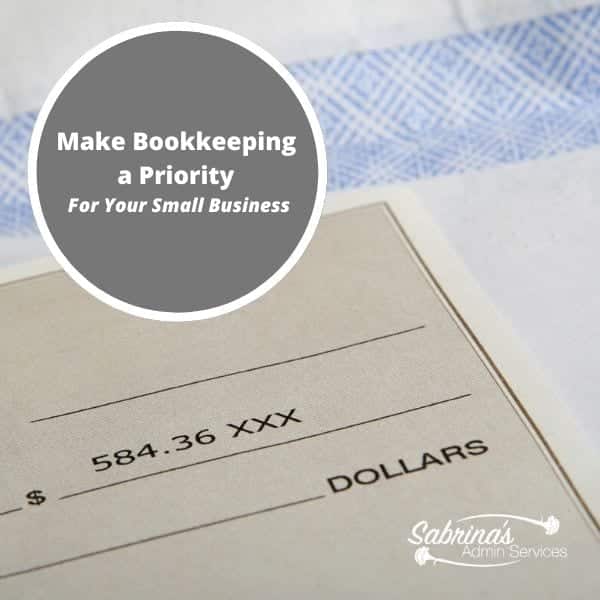 (Visited 718 times, 1 visits today)